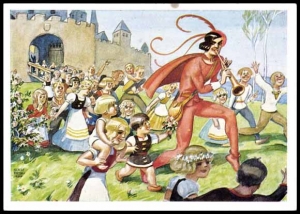 Watched on French TV, Channel n°1: a kind of ridiculous medecine-woman who is teaching young men (of seventeen!) how to put on condoms before putting on somebodies. SS = Safe Sex after Social Security and Schutz Staffeln.
This Channel n°1 is made with a bad mixing of commercials, hollywood movies or series and soccer. This is the Channel that low-educated French people are watching but that no French Politician can criticize because he would loose to many voters. Results of liberalism in Europe these last fifty years were not only to make people a little bit less rich than before (who cares?) but to make them the stupidest Euopean people of those last two centuries. 'Highway to Hell' is a good picture because the way to Hell is the widest.
Argument of this technical lesson about condoms on TV is AIDS prevention of course. Big Brother is not watching you but taking care of you like a good God (Juno the Roman goddess).
But in fact this very religious and ethical show is made for young boys to become the best CUSTOMERS. With industrial things, the relationship is a sado-masochist relationship too -or sentimental. This is remaining me French painter Delacroix who was from the liberal party at first. He is watching the woman as a beautiful art thing. Now people are just industrial things with no difference of sex. This is the progress of capitalism and feminism.
Capitalism is of female gender because it is keeping men by the balls. Now capitalism looks like an old paederastic sexual offender who has enough money for legal prostitution. I am rather faithful in his soon murdering by a younger offender than him. Because it is just Natural ethical law to which devils are submitted.